DISCOVER YOUR FINANCIAL AID
If you need it, you got it.
NewU Scholarships
We award NewU Institutional Scholarships entirely based on financial need. If we award one of our many such scholarships to you, your tuition will become even lower than our already affordable posted rate. 
NewU Institutional Scholarships may be used towards NewU tuition only.
External Scholarships
We may award External Scholarships from non-NewU funded gifts or grants in accordance with the wishes of donors and grantors.
If you are interested to make a donation to NewU University, you can do so here.
FAFSA/PELL grants
It may take some time for NewU to be on the FAFSA list of universities, so you will not find NewU there at this time. Do not worry.
We will give you the same or even higher financial aid relative to the FAFSA grant for which you are approved. Just show us your FAFSA determination notice, and leave the rest to us.
Installment Payment Plans
NewU will review installment plan requests, and approve them at our discretion based on the individual circumstances of each student.
Prices Before Financial Aid
NewU Tuition Relative to Others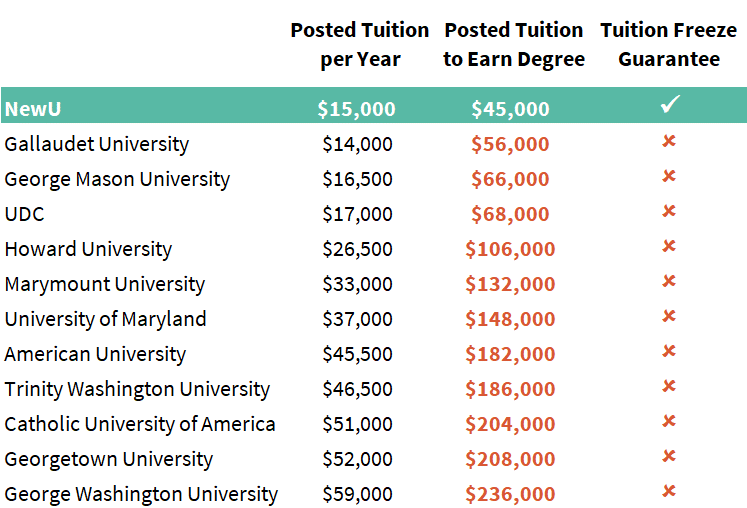 Source: Institutional websites, February 2021.
NewU Bachelor's Degree programs are designed to take only 3 years to earn, not 4. All other universities require students to pay for a 4-year program.
"Tuition freeze" means that NewU will not increase the posted tuition for the 3 years required to graduate . NewU is the only university in the the DC metro area to make a Tuition Freeze guarantee to its students.
Refer Friends, Earn Tuition Credits
* as long as we did not already have your friend's contact information.
** offer has no cash value, and can only be applied towards tuition balances for Fall 2022.
Need-Blind Admissions. Need-Based Financial Aid.
What does it mean? NewU makes admissions decisions without any review or consideration for a student's financial need. Once admitted, a student may be eligible for Financial Aid solely based on the student's financial situation.
This is another one of many ways in which we stand out from other universities. We admit students based on their ability to succeed at NewU, not on how much they can afford to pay. We then allocate Financial Aid to those who need it the most. This way we strive to ensure a more equitable access to higher education, and a fairer outcome for all our students.