Shorter. Affordable. High Quality.
Our Bachelor's degrees take only 3 years to earn, not 4.
And you won't even break a sweat – semesters are only 2 weeks longer than usual, and classes meet only Monday through Thursday.
Tuition and fees for the entire program total 70% less than the average cost of attending other private nonprofit universities.  NewU costs less than most public universities, too.
See below for yourself.
NewU is licensed to operate by the DC Higher Education Licensure Commission.
This means our programs, faculty, and staff meet or exceed all applicable university standards.
Quickly check if you qualify for financial aid
No tuition increase through your 3 years at NewU. Financial Aid available.
Program is 3 years, 2 semesters per year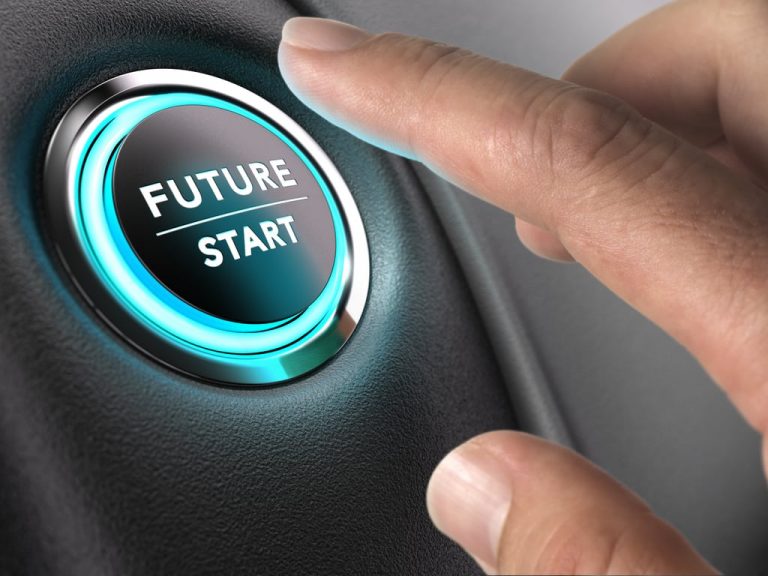 NewU Tuition Relative to Others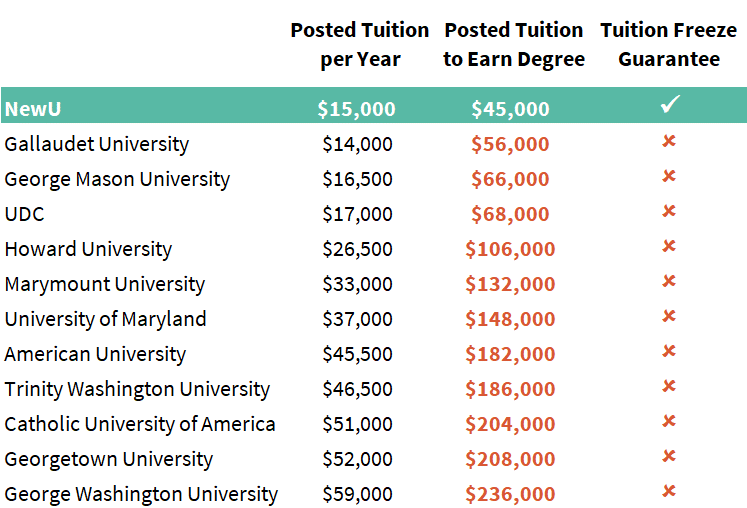 Source: Institutional websites, February 2021.
NewU Bachelor's Degree programs are designed to take only 3 years to earn, not 4. All other universities require students to pay for a 4-year program.
"Tuition freeze" means that NewU will not increase the posted tuition for the 3 years required to graduate . NewU is the only university in the the DC metro area to make a Tuition Freeze guarantee to its students.
NewU Scholarships
If we award a NewU Scholarship to you, your tuition may become even lower than our already affordable posted rate.
NewU Scholarships may be used towards tuition only.
Sponsored Scholarships
NewU may award Sponsored Scholarships from externally-funded gifts or grants to NewU.
Sponsored Scholarships may be used towards tuition only.
Sponsored Stipends
We may award Sponsored Stipends from externally-funded gifts or grants to NewU.
Sponsored Stipends may be used towards any NewU expenses.
Installment Payment Plans
NewU will review installment plan requests, and approve them at our discretion based on the individual circumstances of each student.
the future of applying to college
See How Much Financial Aid You Could Receive
For Applicants who do NOT require a US visa
IMPORTANT: We receive a large number of request from international students. For our first academic year (Fall 2021 – Spring 2022), we are unfortunately not in a position to admit international students yet. If you are an international student who requires a visa to study at NewU University, we ask that you fill in our Keep in Touch form here, and we will let you know when you should apply. Thank you.

Need-Blind Admissions. Need-Based Financial Aid.
What does it mean?  NewU makes admissions decisions without any review or consideration for a student's financial need.  Once admitted, a student may be eligible for Financial Aid solely on the student's financial situation.
This is another one of many ways in which we stand out from other universities.  We admit students based on their ability to succeed at NewU, not on how much they can afford to pay.  We then allocate Financial Aid to those who need it the most.  This way we strive to ensure a more equitable access to higher education, and a fairer outcome for all our students. 
Refer Friends, Earn Tuition Credits
* as long as we did not already have your friend's contact information. ** offer has no cash value, and can only be applied towards tuition balances for Fall 2021.