COLLEGE THAT WON'T BREAK THE BANK
NewU average tuition after financial aid makes college possible. Read below for more info.
The Future of College Affordability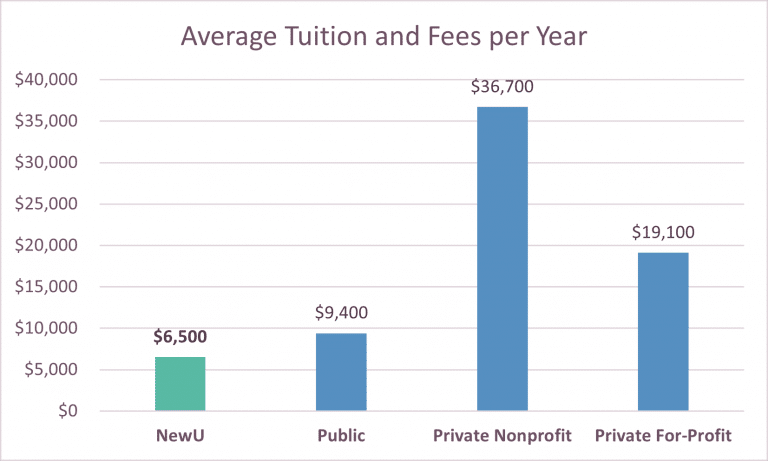 Source: National Center for Education Statistics, Jan 2022, NewU data 2022.
Private Non-Profit Quality
NewU is a private 501(c)(3) non-profit university with faculty from Cal State, Columbia, Georgetown, UMD, and industry practitioners. Our prices are affordable because we don't spend your tuition money on athletics, hospitals, and research. We provide quality education at a stunningly low price as a result of thoughtful innovation and focus on student growth and learning experiences.
Stunningly Affordable
Whether you compare to public or private universities, NewU tuition and fees are lower than the average for any type of Bachelor's degree college. And getting your BA degree at NewU takes only 3 years to earn, not 4 (no summer semesters required!). Each year at NewU costs less, plus students and parents save an entire year of time and money.
Complete Financial Aid Visibility for ALL Years of Study
NewU determines your financial aid upfront for each of your 3 years here, so you get complete visibility into your Expected Family Contribution (EFC) not just for the first year but for the entire duration of your college studies. We will match any FAFSA/Pell grant. And if you are eligible for any federally subsidized or unsubsidized loan, we will give you a scholarship grant (not a loan!) in the same amount, so you don't have to borrow tuition money from the government. Say goodbye to student loans now.
Tuition Freeze
NewU has a tuition freeze for all enrolled students. "Tuition Freeze" means that NewU will not increase the posted tuition for the 3 years required to get your Bachelor's here . NewU is the only university in the the DC metro area to make a Tuition Freeze Guarantee to students and families.

Is This Real? Innovation Makes it Real.
Students, parents, educators, and journalists just love the much needed college innovations we designed and implemented. NewU was even recently featured in The Washington Post and in The Hechinger Report. But our improvements are often so impactful that at first glance people tend to think to themselves: "Is this real? How is it possible? Why are others not doing this?".
By now most people would admit that universities have been slow to change. This has not served us well. Tuition is through the roof. Student loans are the largest category of debt exceeding even credit card, car, and housing loans. Graduation rates are down, under-employment is up, and college amplifies inequities instead of improving society. NewU was designed and built from scratch to tackle all these major issues with college. Read the President's Letter for more.
As for how specifically we make college so affordable, here are the areas where innovation brings cost savings without impacting quality:
Bachelor's degree in 3 years saves an entire year of time and money (25% savings off the top)
Being a teaching institution means we spend money on quality faculty and we don't fund research, hospitals, or auxiliaries such as sports facilities
Using an efficient staff structure combined with smart outsourcing of non-core services means no wasted money on siloed bureaucracies

Renting instead of owning a modern campus right next to The White House saves a ton of money we don't have to spend on building services, maintenance, infrastructure projects, and other activities not directly enhancing the learning outcomes for students
If you need money for college, you got it.
NewU Scholarships
We award NewU Institutional Scholarships entirely based on financial need. If we award one of our many such scholarships to you, your tuition will become even lower than our already affordable posted rate. 
NewU Institutional Scholarships may be used towards NewU tuition only.
External Scholarships
We may award External Scholarships from non-NewU funded gifts or grants in accordance with the wishes of donors and grantors.
For a list of currently available third-party scholarships, click here.
FAFSA/PELL grants
It may take some time for NewU to be on the FAFSA list of universities, so you will not find NewU there at this time. Do not worry.
We will give you the same or even higher financial aid relative to the FAFSA grant for which you are approved. Just show us your FAFSA determination notice, and leave the rest to us.
Installment Payment Plans
NewU will review installment plan requests, and approve them at our discretion based on the individual circumstances of each student.
Refer Friends, Earn Tuition Credits
* as long as we did not already have your friend's contact information.
** offer has no cash value, and can only be applied towards tuition balances.
Need-Blind Admissions. Need-Based Financial Aid.
What does it mean? NewU makes admissions decisions without any review or consideration for a student's financial need. Once admitted, a student may be eligible for Financial Aid solely based on the student's financial situation.
This is another one of many ways in which we stand out from other universities. We admit students based on their ability to succeed at NewU, not on how much they can afford to pay. We then allocate Financial Aid to those who need it the most. This way we strive to ensure a more equitable access to higher education, and a fairer outcome for all our students.